Grey Goo Download Thepcgames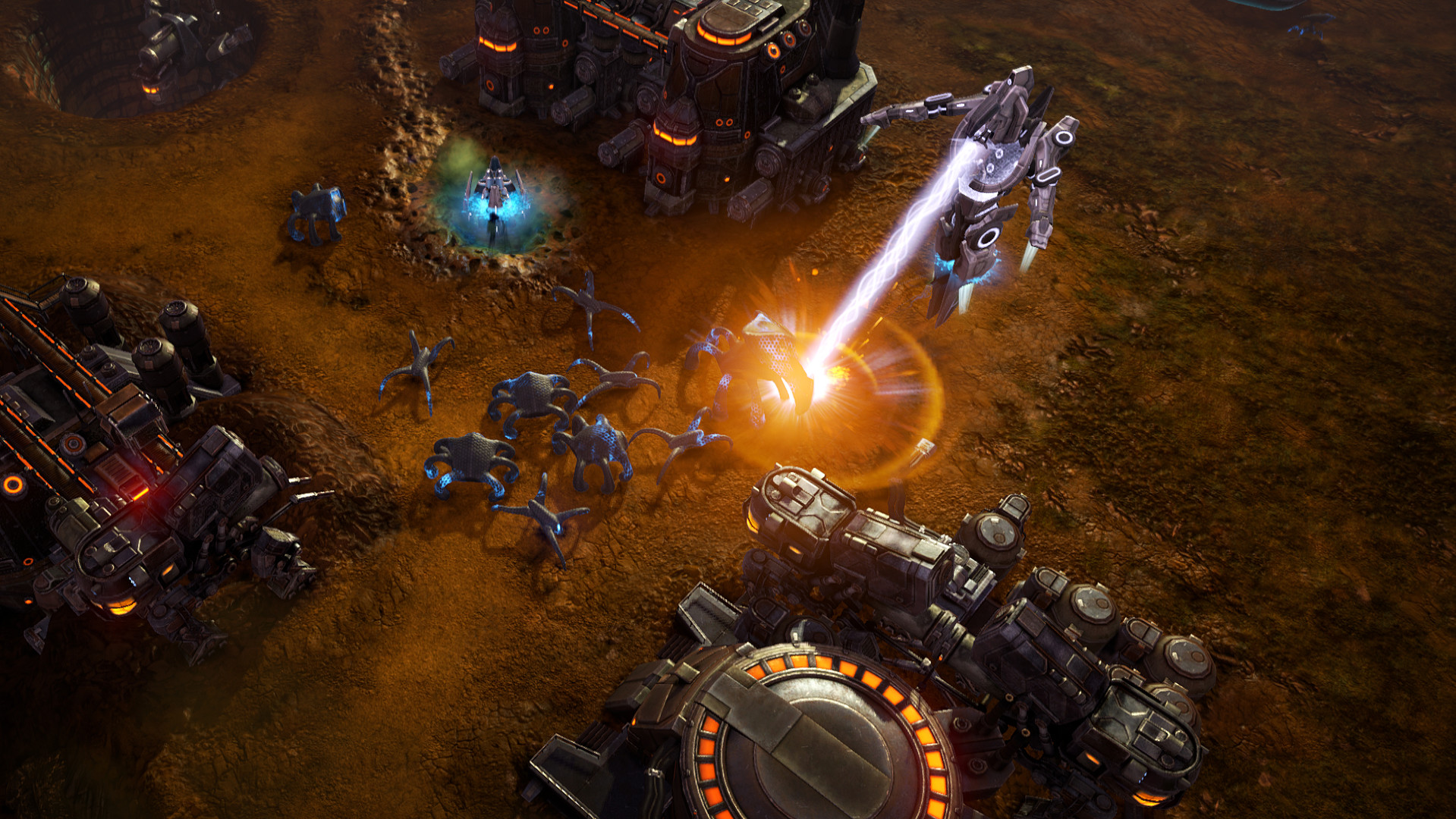 Download ->->->-> DOWNLOAD
About This Game
FIGHT THE CHAOS. OR HARNESS ITS POWER.

Out of the ashes of war, a tentative truce emerges between the Humans, Beta and the Goo—but peace doesn't last long. Ecosystem Nine finds itself thrust into turmoil once again with the arrival of a destructive, alien life form known as the Shroud.

Grey Goo is a real-time strategy (RTS) game that combines classic strategy mechanics and a balanced combat system with an emphasis on large-scale decision-making. It puts you at the center of a tactical struggle for survival—and ultimately, control of Ecosystem 9.

Take on the single-player campaign to command three factions: the Humans, masters of defensive architecture; the Beta, a proud, versatile alien race; and the Goo, an enigmatic, highly mobile life form. Or compete with any of the four multiplayer factions—including the disruptive, unpredictable Shroud.
Features
Fight—or play as—the Shroud, a brand-new, multiplayer faction.

Command new units: the Humans' Valiant, the Beta's Squall and the Goo's Siphon.

Explore an additional story arc with "Grey Goo: Emergence," and discover the Goo's true intentions.

Take on the Shroud in Mission 16, "Herald of Silence."

Sharpen your battlefield tactics in the single-player campaign, or join the fray on Steam.

Join the fray on Steam and find opponents through skill-based matchmaking.

Change the rules of the battlefield with unit-altering tech upgrades.

Deliver devastating blows by constructing game-ending Epic units.

Take the battle offline via Local Area Network play.

Enhance your competitive edge with Replay Mode and Observer Mode.

Use the Map Editor to create your own battlefields and share them with the community via Steam Workshop.
7ad7b8b382

Title: Grey Goo
Genre: Strategy
Developer:
Petroglyph
Publisher:
Grey Box
Release Date: 23 Jan, 2015
Minimum:

OS: 32-bit Windows 7

Processor: 3.5 GHz Intel Core i3 Dual Core or equivalent

Memory: 4 GB RAM

Graphics: 1024 MB DirectX 11 capable video card (GeForce GTX 460 or AMD Radeon HD 5870)

DirectX: Version 11

Network: Broadband Internet connection

Storage: 15 GB available space
English,French,Italian,German,Russian,Polish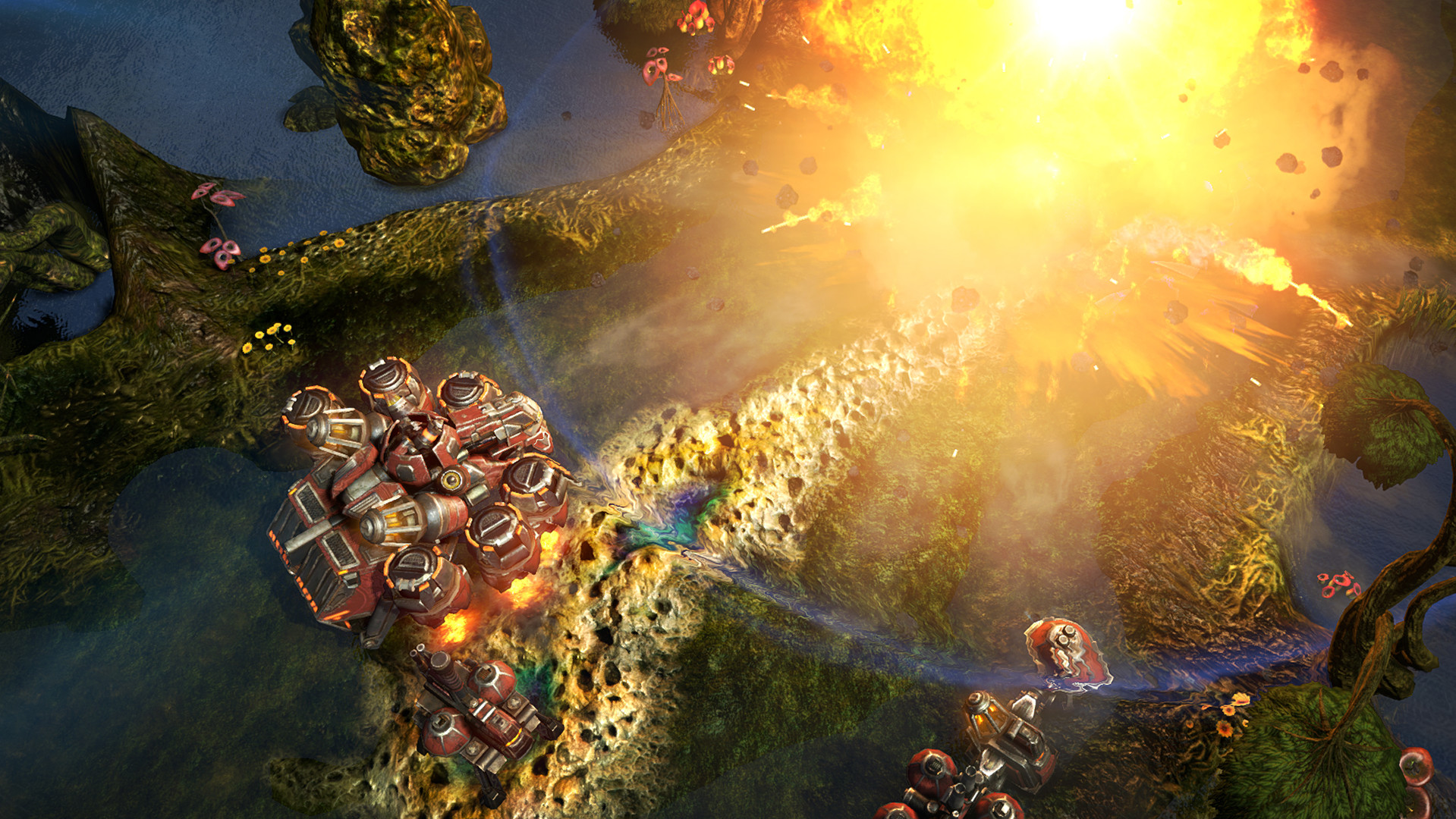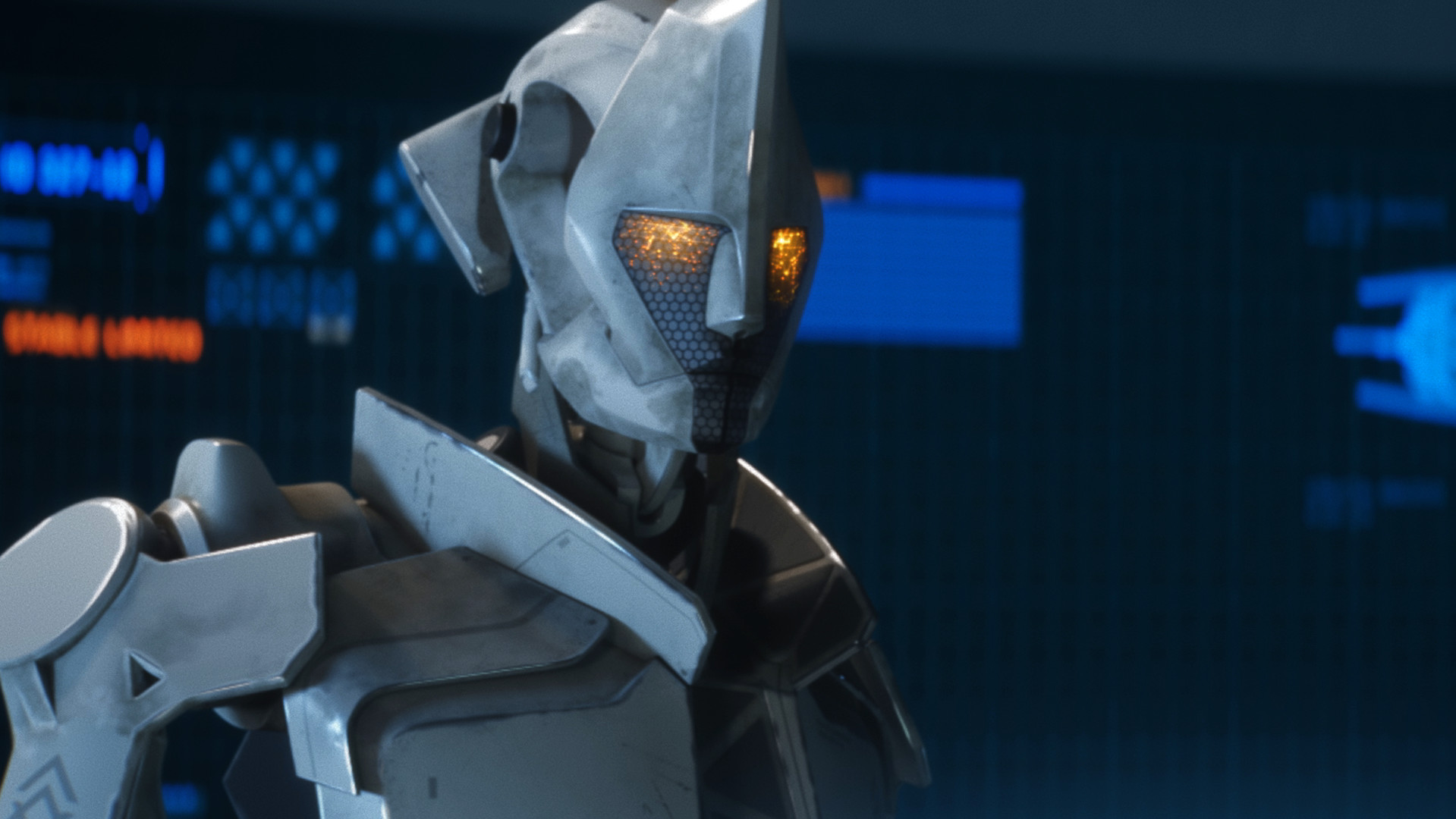 Finally Petroglyph dropped the F2P MOBA crap and returned to their roots. A classic RTS with base building, unit spamming and silly voice accents.. Real time strategy is my favorite genre, and I've played most of them over the past 25 years. While Grey Goo isn't going to make the top-10 of all-time, it is a wonderfully solid and smart game, and a very welcome addition to the greatest genre in gaming.

What Grey Goo does better than most, from my perspective, is variation in faction/race type. One of them, anyway. There are three races, the Beta, the Humans, and the Goo. While the Humans and Beta are rather similar -- nicely done but somewhat generic military sci-fi type units -- the Goo are downright freaky! There are giant grey goobly globs called Mother Goo that slither and slime around the map like year old Jell-o, and from their (yuck) loins spring forth all manner of other oddball units, from thick-legged spiders with headlights, to giant, tank-like creatures that look like a cross between a sting ray and a rhino. Just weird, and thrilling. One of the most intriguing and original faction designs I can think of.

The single player campaign consists of fifteen missions ranging from 45 minutes to an hour and a half a piece. And that's not counting retries, as this game is hard. Once you get the hang of a certain level you'll see a clear but challenging path to the end (hint: that clear path often involves building epic units), but until then, certain levels will leave you frustrated to tears as you throw all manner of units and strategies up against the proverbial wall and wonder what you're doing wrong.

When I finished the game and finally overcame the the epic length and difficulty of the story campaign, it really did feel like an accomplishment. You know that feeling when you plug away at a tough game for a while, curses screamed and pets scared, and you feel wired up and full of energy? I was bouncing around my house for a good 10 minutes after finishing the last level; smiling, laughing, pumping my fist. That's the sign of a great game.. Grey Goo provides a slightly above average single player experience and has some interesting ideas behind it, but while the cinematics, soundtrack, and distinct factions wooed me, the lack of mission variety and final mission balancing do much against it. The straight sci-fi story also has an uninspiring conclusion with the mini-campaign, Emergence, being the only way to gain a better understanding of the true big bad.

I completely ignored the multiplayer, but it's important to note, that there are four factions available for the online portion of the game. I believe the population is mostly dead which means you'd need to bring a friend if you wanted to see how the multiplayer matches work out.

With the single player, you're exposed to three very different factions in this order: the Beta, the Humans, and the Grey Goo. They all have a playstyle unique to themselves with units separated into Light, Heavy, Air, and Epic categories. The Beta are the most flexible in terms of base building and can easily create forward positions or secondary bases so long as your units have vision of the area. You can expect to drop Small, Medium, and Large hubs all over the place for the expansion your territory. The Beta's defensive structures consist of walls with the capability of housing a unit that can fire from them.

The humans, on the other hand, need to lay down power lines to expand and grow. Buildings require power to function and need an unbroken power line to keep them supplied. Depending on the tech upgrades you choose, only a couple of the turrets can power themselves and remain a threat, even if the enemy destroys your conduits. The conduit mechanics means you can only lay down lines so far before running into a no build zone in the form of a steep path, mountains, or rivers. To mine resources points beyond you reach, you need to scout with a unit to provide vision before you can drop an extractor after selecting the idle refinery. After that, it's up to you to protect your extremely vulnerable supply lines, but keep in mind that extractors are free to build and the refineries can stay protected inside of your main base.

Beta refinery outposts are costly losses (Small Hub + Refinery at least) if resources aren't spent to defend them. Another interesting thing to note is how both races need to spend population on defenses when it comes to building turrets or having units mount walls which prevents super turtling.

Now when it comes to the Grey Goo, they can't turtle at all. In fact, they have no buildings to speak of or even any air units. This faction is meant to stay on the move with the HQ (Mother Goo) able to scale cliffs and create more Mother Goos, in addition to the normal army units. The anti-air and artillery units can climb cliffs too for that ever-important height advantage. Their anti-air units also appear to be the strongest in the campaign. The Mother Goo and the Proteans (formless Goo that haven't been ordered to turn into regular units) can go around consuming enemy units and providing a movement debuff to make them easier to eat. I really enjoyed being able to move around and reposition myself when defending my location seems like a futile effort. Retreat, regroup, and recapture, the Grey Goo way. The mobile nature of this faction makes their ambushing game strong since you have the option to descend from cliffs in addition to hiding in pockets of forest. It's too bad the unit selection sounds are a bit annoying for the most part.

There are still more aspects of this game to touch on, including the importance of scouting, the tech upgrades, and Epic units. Scouting can mean the difference between victory or watching your army crumble from hidden enemy artillery units or fast bombers. I usually don't build scouts in the RTS's I play, but in Grey Goo, I deliberately queued them up for production due to how vital vision is. There is a massive difference between the vision of a scout and regular units. You need them to expose enemies lying in wait, to expose units attacking you from out of visual range, and to expand your territory. Remember, if you can see it, you can build there.

There are five categories of tech upgrades available for each faction. They can how some units function by granting them different passives or additional functions. You can have buildings heal themselves over time, give ground infantry a way to shoot down air units, and even give certain scout units stealth or the ability to detect stealth. Your choice is permanent so picking the right one for the situation can help you greatly. Even a "wrong" choice will help you out still, just maybe not as much.

Finally, Epic Units. Each faction has their own. The Beta have a flying fortress, the Hand of Ruk, that you can mount units on to help defend it from enemy units that close in on it. Anything else in range can say hello to a little missile with explosive ambitions. The humans have the Alpha which fires a huge laser that melts everything in directing in front of it. The Grey Goo have the Purger which supplies Mother Goos with resources, has a ranged tentacle attack, eats units for breakfast, climbs cliffs, but all without anti-air.

Whew. So what the game do wrong? Well, the mission structure feels repetitive. You're mostly going to different points of interest on the map, eliminating all opposition, or reaching the exit of the level. The campaign is set up in a way where it's about 5 missions per faction (I think the humans have 6). The only real sense of difference that's communicated to the player is the playstyle of the faction. Without interesting mission objectives or dynamically changing maps (in the sense of doing A causes B to happen), the game fails to pull itself up from the "Well, this experience is okay." feeling. I wasn't a big fan of the thankfully few stealth portions either.

I also didn't care for the huge difficulty spike of the last mission. I just went ahead and watched the ending on Youtube before going onto Emergence and finishing that for the lore about the Silenct Ones. It went from being mostly pleasant ride into an overwhelming feeling of despair with an ending cutscene that just wasn't worth it. It just expected a level of micro-management that I didn't have when for the rest of the game, I could build up my armies and with a little finesse, conquer the map that way.

I did like the tunes though and put the songs into my music folder. They also put the same amount of effort into the gorgeous cutscenes. Do you like skin pores and robot faces? I hope you do because they do them real well here.

This game isn't fantastic or great. Sometimes, it's good. It's mostly just going to be okay. I hoped to see more Red Alert come through in terms of storytelling, but hey, if they don't want to include humor, that's fine. Just have a proper conclusion. I'll mention that I bought the game in a $1 tier from Humble Bundle and it's definitely worth that or a sale price. I'm not too sure about the $30 regular, but I'll leave that up to you.. Grey Goo is a blander, kind of budget Starcraft. It has innovative base building and unit mechanics between it's three (initial) very diverse factions and much of the polish, too, with great CGI cinematics and a a raft of relatively 'hard' (i.e. plausible) sci-fi pretensions. But gameplay just lacks excitement somehow.

It has novelty, but in the context of obvious derivative echos: the aliens are junky, lower tech (like the Terrans), with South African sounding accents and are more sympathetic that the human faction, with a colder, clinical aesthetic, touting smoothly curved hovering units (echoing the Protos). Their structures need unbroken adjacent conduit connection to the core base building to operate, which is interestingly different.

The titular Goo would be the obvious Zerg swarm stand in. They're unique in having no base structures to build, all splitting off bigger mother blobs that harvest resources directly.

But as a core concept they're emblematic of the game's lack of pizazz. Fundamentally problematic to work with artistically: typically, the 'grey goo' concept involves out-of-control nano-bots that consume all matter around them, reducing entire planets to a mush of their replicas. Nightmarish and unstoppable.

But of course, to fit the RTS genre there needs to be units of some kind to click on and control. So the game goes half way and has undulating grey pancake things and specialised bug-eyed offspring for most offense unit that look kind of arbitrary and ridiculous. It all feels a little too naff, that they can't munch on trees and scenery, or even enemy units all the much, since the game has to be somewhat balanced and playable.

The story ark was ok, but predictable and uninspiring for me as a hard sci-fi aficionado. They make use of a fair bit of real world terminology (e.g. Von Neumann probes, etc), as well as genre tropes, which is cool to get it out there, but kind of trite.

I can't comment on multi-player, which I didn't really try, with no friends owning the game to play with and little enthusiasm after the single player.

By the time I'd completed the main campaign and Emergence DLC I was just glad I'd made it to the end! I struggled a lot with the final missions, not really in a fun way. Although they were presumably meant to crescendo, I had to check out multiple YouTube videos, use save games prodigiously and really take a lot of time sitting around to make sure my Goo forces were built up to max strength before attacking, etc.

Overall, if you're an RTS fan then you could do worst than grabbing this while it's on sale. Far more artistic value than Ashes of the Singularity, for example, and slightly better money's worth, with an extra DLC mission and forth faction added on for free earlier this year. So, check it out, why not. :-). EDIT 16/3/2016
Regional locks have been lifted and the game now has an option for "worldwide matches". While ping may be a concern, most games I have played online have not plagued me with packet loss or lagspikes. Game has been optimized for slower PCs and newer machines alike. Gameplay balance is constantly being fixed.

Listen up, other game developers. This is how GreyBox and Petrogylph does things: exactly what the fans want. Thumbs up to the folks over at GreyBox and Retroglyph for the continuous updates and connections to the fans. Thank you so very much.



EDIT: Issues regarding region lock, game optimization and gameplay balance are being fixed as I type. This is the prime time to purchase this classical RTS and get to commanding!



[Original Post]
This is my first time writing a review on Steam but hell, this game deserves it.

Grey Goo is astonishingly fun to play, has decent AI, and good game mechanics. It is a good game overall, sadly I am speaking at launch, and there are loads of issues waiting to be fixed.

First off, the game is currently not fully optimized, and it lags the hell out of slower and even newer pcs.
Secondly, the game is region locked, so you can't play online if you're stuck somewhere outside of players who have this game.
Lastly, Menu screen are extremely laggy in-matches, which is probably due to optimization errors.

Would I recommend this game? Absolutely.
Would I recommend you buy it now? The answer is No. wait till the issues are fixed and you'll get one hell of an RTS.. Hmm... this is a tough one.

By all means, it's a great RTS in itself. I don't say this lightly. The races are quite balanced and they're quite unique among each other. And the ressource system is quite good (I love that you both have the cost of the unit/building but also its' cost PER SECOND - it gives you a clearer vision of the status of your economy).

But I would have to say that... for some reason, I can't make myself love this game for a long time. I think it's partly due to the units design. In my honest opinion, the units in this game are quite bland. You can see that they attempt to make them different, and in a way they "are", but the diversity just isn't quite there. Plus they don't really have "character". I feel that you can resume a unit's character according to the faction it belongs to.

I do still recommend it though. Perhaps if the game is on sale, it'd be quite a great deal for RTS fans, but other than that, it's kinda hard to justify its' full price in my honest opinion.
Rabi-Ribi - Before Next Adventure [Torrent]
Punch Planet download for pc [Crack Serial Key
DFF NT: Glacial Guard, Snow Villiers' 4th Weapon Patch
Skullgirls: Beowulf download for pc [License]
Mysterious insects Xforce
Fruit couple 4 [addons]
Free Download Paint it Back Demo .rar
The Polynomial - Space of the music Xforce keygen
Fantasy Grounds - Mini-Dungeon 004: Summoner's Remorse (PFRPG) full...
Fiber Twig 2 update 8 download